Google's changes for SSL certificates could cost you thousands.
Ever since the internet's inception, the only time your website needed an SSL certificate is when you shared sensitive information such as a credit card on the checkout page.
Then in 2014, Google announced it wanted to make the web a more secure place.
The good news: websites that use SSL certificates will get a boost with the search engines and all your data will be secure from evil hackers.
The bad news: if your website goes unchecked it could cost you thousands in lost revenue.
What does this look like?
Google plans to treat all HTTP pages like this: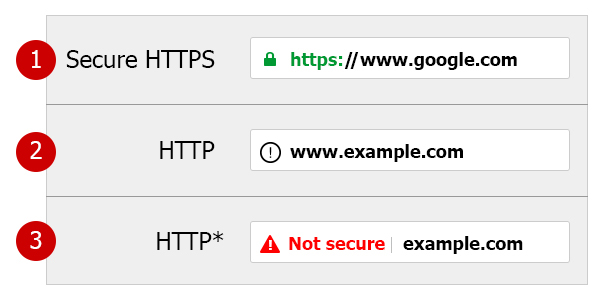 The 'secure https' security status is one you may have seen already (if you use Chrome). It's the green lock, which means an SSL certificate is correctly installed and the site is secured.
The info or not secure status means the website isn't using a private connection.
The 'not secure' or dangerous security status, is a website that has been flagged as dangerous. Google will display the 'not secure' red triangle in Chrome browsers for all websites without an SSL certification.
You definitely don't want your visitors seeing that in their URL bar, it's really bad for business!
When does this change happen?
Starting October 1, 2017, as a ranking factor, Google will roll out different security warnings to users attempting to access sites without ​HTTPS. This will negatively impact your traffic going through to non-secure sites, no matter what marketing or SEO you have already, or continue to do without the SSL certificate.
How will this impact my website?
Without an SSL certificate on your website, you run the risk of losing valuable business – more importantly to those who rely on their website traffic for direct leads and sales.
Current customers might not be able to purchase through your website because eCommerce payment gateways are stopping all payments going through non-secure sites.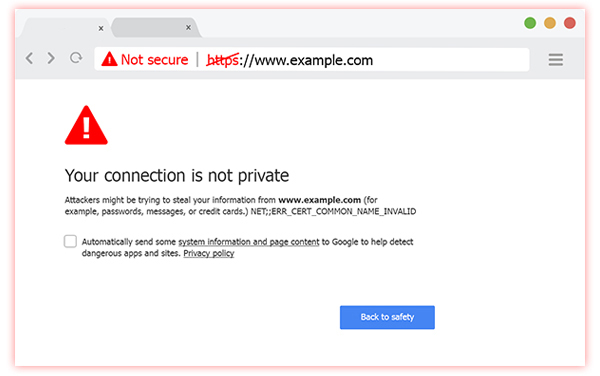 What can you do to avoid this?
Have your SSL certificate installed correctly and tested across your entire site, including all your images, forms and content to make sure your website (and traffic) are protected from Google's major algorithm update on October 1st, 2017.
We have a dedicated team in place to handle your website smoothly and with minimal impact.
So, it's not a matter 'if' you'll make the switch, it's a matter of 'when' to ensure your website experiences consistent traffic, leads, and sales.